Introduction to Magic AI
Upon logging into the Magic AI platform, you'll be greeted by an intuitive dashboard showcasing a list of your personalized chatbots. The beauty of Magic AI lies in its adaptability – each chatbot operates independently, allowing you to tailor their training, configurations, and purposes to suit your specific needs.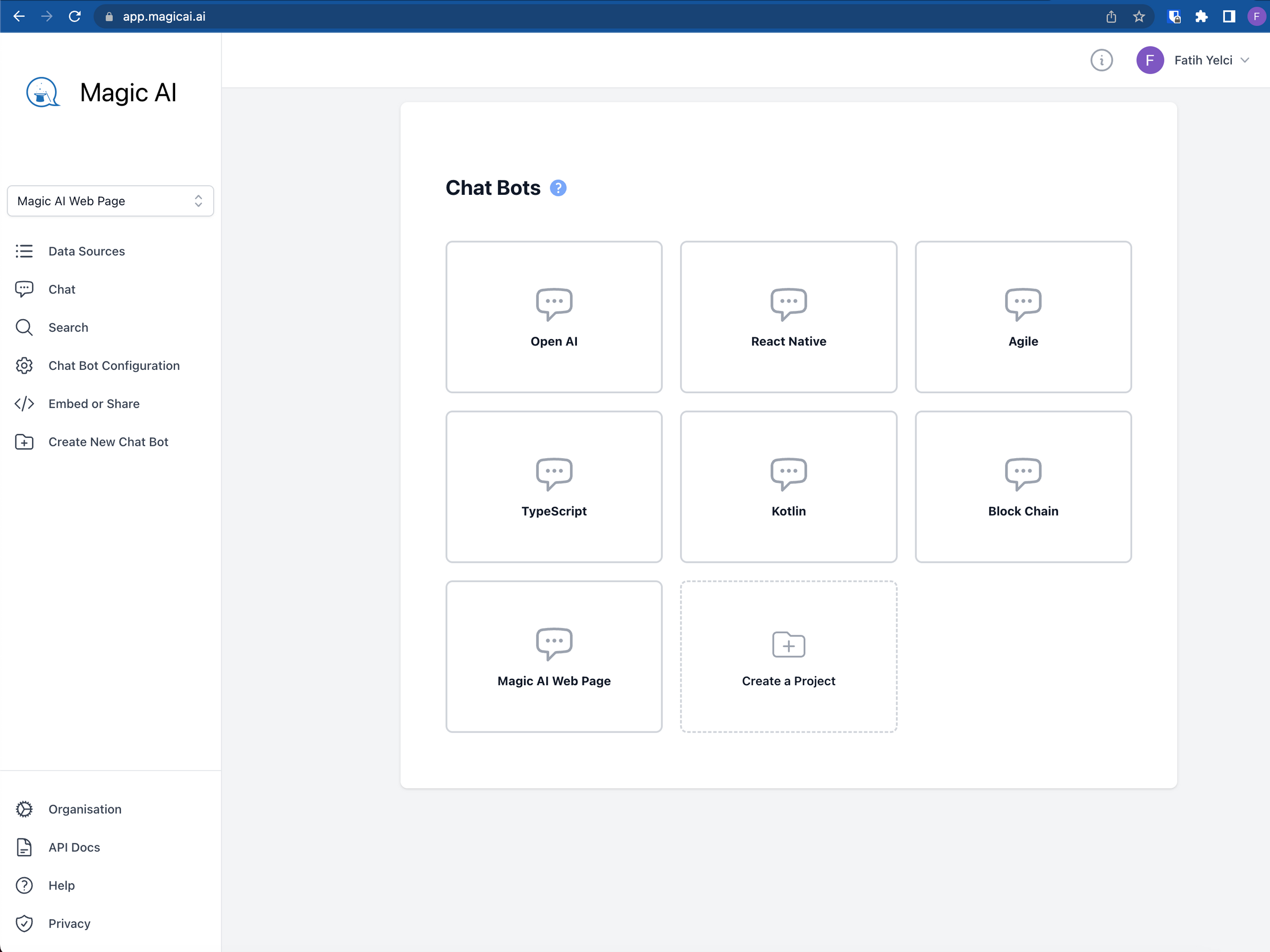 Uploading and Harnessing Data
To kickstart the transformation of your chatbot into a knowledge powerhouse, begin by uploading a diverse array of documents. Whether it's PDFs, Word documents, PowerPoint presentations, Notion files, or Google Drive resources, Magic AI seamlessly processes them all. Furthermore, the platform extends its reach to the internet – you can use the web crawling feature to extract valuable information from websites, enriching your chatbot's data sources.
Navigate to "Data Sources" page and start uploading your documents.
Start asking questions
At this point, you can start asking questions to your chatbot about your documents or web pages. When you ask a question, our platform will scan all of your documents and will try to answer your question based on your documents. You can basically navigate to "Chat" page from the left menu start typing your question.
You will also see which data sources we used to generate this answer.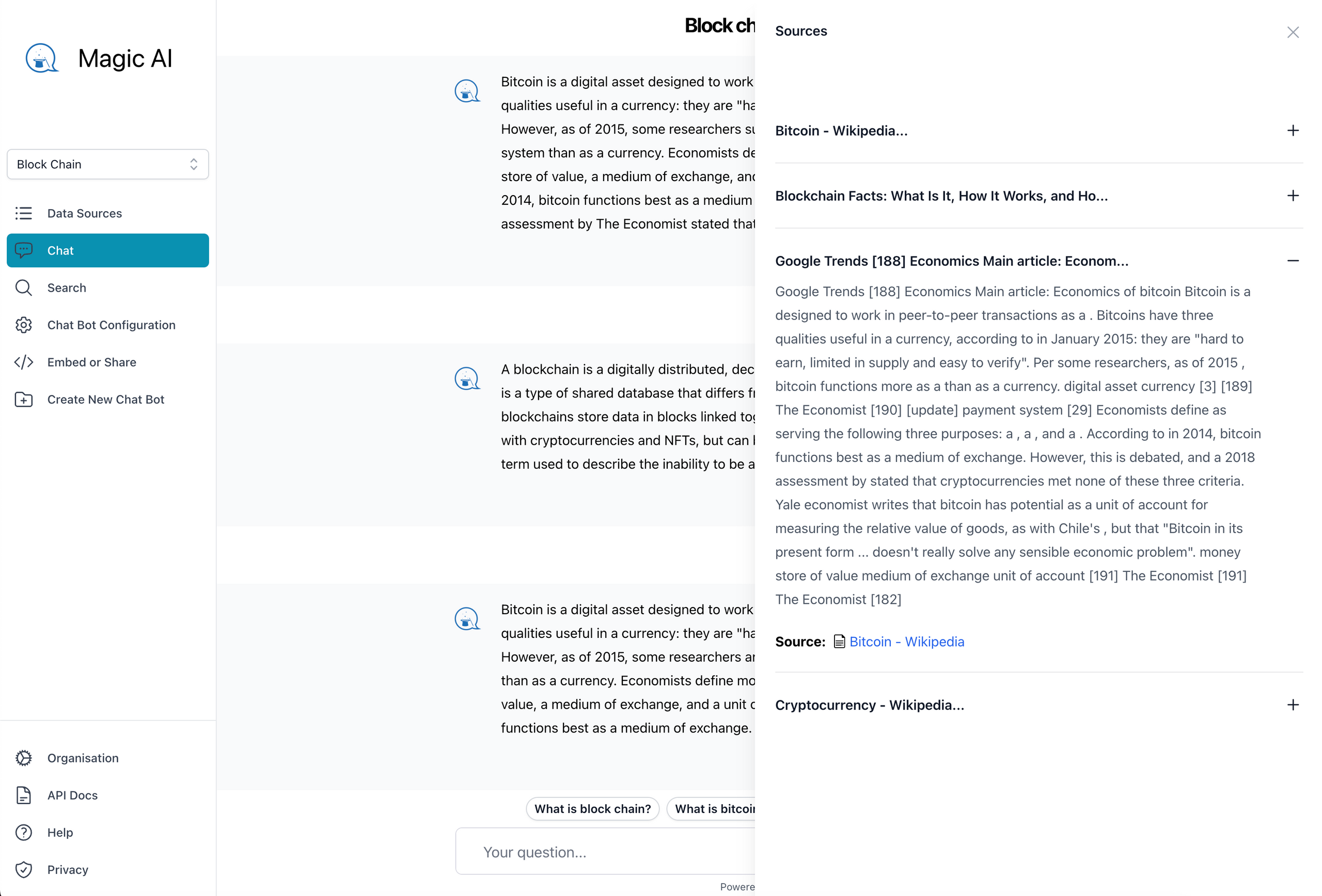 Customization and Configuration
Magic AI thrives on personalization. Tailor your chatbot's configuration to fine-tune its behavior and responses, ensuring an experience that aligns seamlessly with your objectives. Should your needs expand, feel free to create new chatbots, each primed with a unique knowledge base.
Navigate to "Chat Bot Configuration" page to change the configuration. You can update the system prompt according your needs. For example if you want your chat bot to answer in Spanish, at the end of the system prompt you can write "Answer in Spanish". Or alternatively you update all system prompt in your language.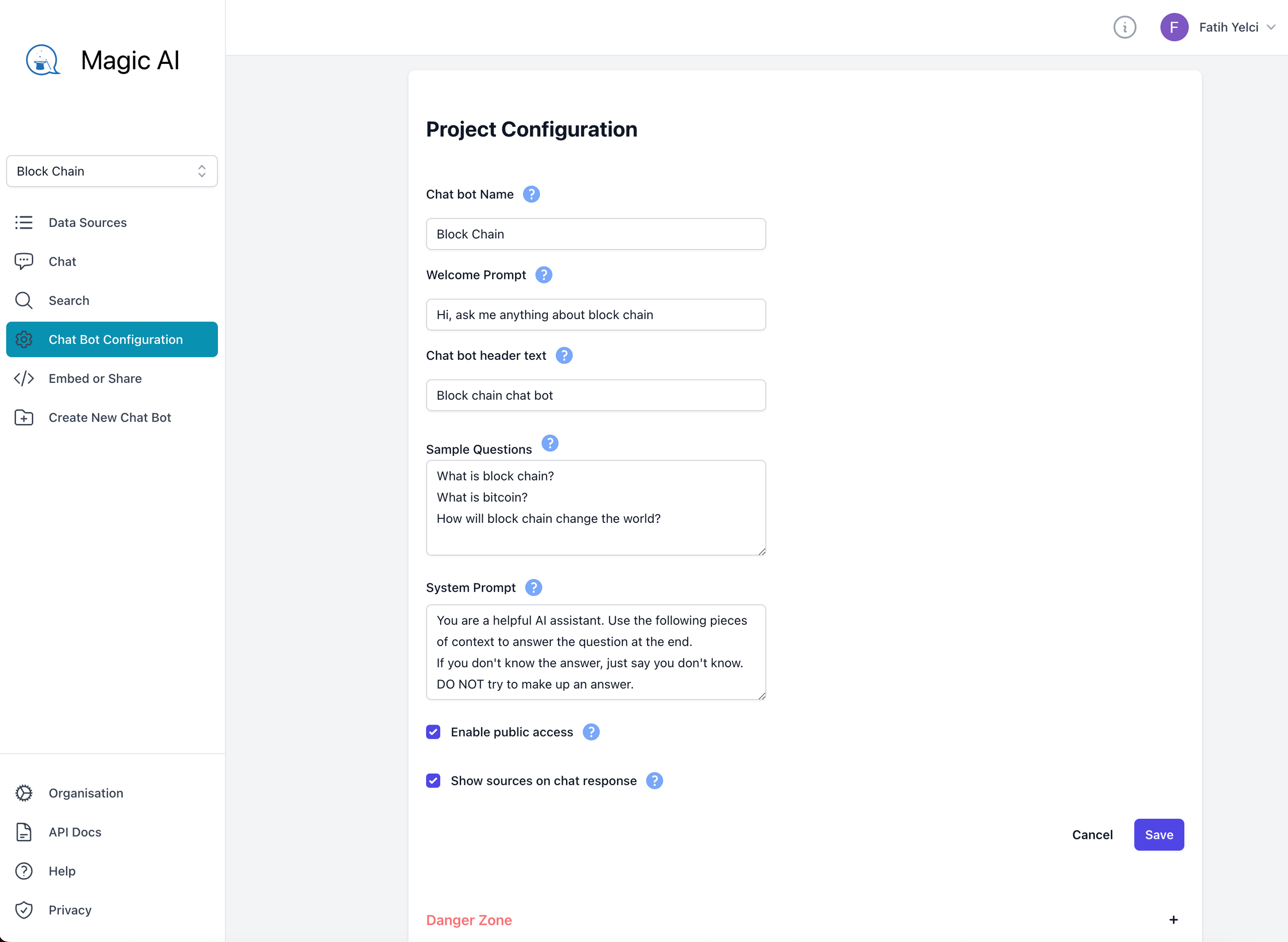 Collaborative Power
Share the power of Magic AI by inviting team members and collaborators to join the platform. You can invite them in the "Organisation" page under the "Team members" tab. We don't charge extra for your team members. Our price is flat for all of the team. You can check our pricing page for more information
Embed your chatbot into your web page
If you have a web page, you can embed your chatbot into your own web site. This will allow users to ask questions anything about your website and get quick answers. Our chatbot will learn everything about your website and answer all of the questions. This will increase user interaction on your web page and allow users to find whatever they are looking for. This will also decrease customer support requests.
To be able to embed your chat bot into your web page, first go to chatbot configuration page and make your chatbot public. After that you can go to "Embed and Share" page and copy the embedding codes. You have 2 options, you can embed is a bubble popup on right bottom of your page, or you can embed inline anywhere in your page. You can see bubble sample on our website on right bottom corner. You can also see inline samples in our demo pages.
API Integration for the Innovators
For those seeking to push boundaries, Magic AI offers API integration. Dive into the comprehensive API documentation available at docs.magicai.ai, and unlock the potential to weave Magic AI's capabilities into your existing workflows, amplifying efficiency and expanding possibilities.